Bucs Defense Improves To 20th-Ranked In NFL
October 5th, 2021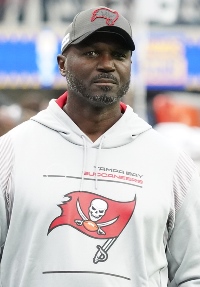 With the Chargers knocking off the Raiders last night, stats across the NFL evened out as every team has now played four games.
Yeah, the Bucs have the worst pass defense in the league. Those paying attention don't need a stat nerd to provide the data. And the same goes for the Bucs' NFL-best run defense.
But overall, the Bucs defense improved after the New England performance to 20th-ranked in the NFL (total yards per game).
The Tampa Bay offense remains No. 1 in the NFL, despite an off night, and the rushing attack got out of the cellar and now ranks 30th in the league.
Of course, all that matters is the scoreboard, and at 3-1, the Bucs are in good shape with only Arizona undefeated in the NFC.
Sunday's opponent, Miami, is awful. So Joe expects the Bucs defense to be officially average by this time next week.