A Deeper Look At Shaq's Production
October 10th, 2021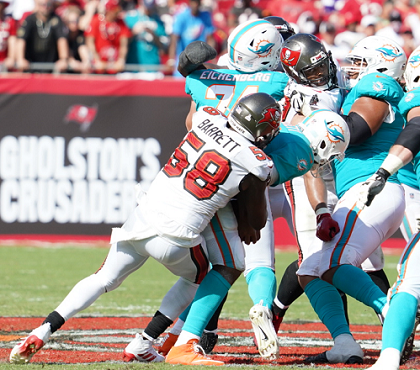 If not for referee blunders, Bucs sacks king Shaq Barrett would be having a Defensive Player of the Year kind of start.
Shaq was screwed out of a strip-sack by officials against Atlanta in Week 2, and last week he was robbed of a clear forced fumble. With 1 1/2 sacks today, Bucs sacks king Shaq is on pace for a dozen sacks. It should be more.
His first sacke of the day today was a strip of Jacoby Brissett that was pounced on by Ndamukong Suh. It should have been Shaq's third forced fumble of the season. For perspective, Jason Pierre-Paul had four forced fumbles last season, which tied for third-most in the NFL.
Without miserable officiating, Shaq would be on pace for 15 sacks and 10 forced fumbles. And he already has an interception (Week 2) … and he's a cog in the best run defense known to man.
Keep grinding, Shaq! Joe appreciates you.