Tom Brady Talks Ryan Jensen Penalty, "Softer" NFL
September 20th, 2021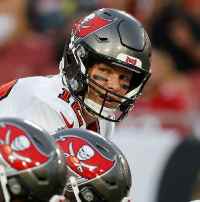 The critical-at-the-time personal foul called on Ryan Jensen against the Falcons looked like a play NFL fans see every week in every game.
A running back is fighting not to be taken down and in comes a steaming offensive lineman — before the whistle — to push the pile or clear bodies off the runner.
That's exactly what Jensen did and he got flagged. (Yes, the film shows it was before the whistle.) There also was a play late in the game when Donovan Smith did nearly the same thing in the red zone and didn't get called.
Speaking tonight on SiriusXM Mad Dog Radio, Tom Brady said that flag on Jensen is evidence of a changing NFL that's more friendly to mobile quarterbacks.
"We got called on a play yesterday where Ryan Jensen is going basically to protect our runner and they throw an unnecessary roughness on an offensive lineman that I don't think it would have been called five years ago," Brady said.

"I'd say the game is a little softer than it used to be. You know, I think the defensive players are more on the defensive when they go in to tackle, and I think that's probably adding to this element of quarterbacks outside the pocket taking more chances than they did in the past."
It's a great point by sage Brady, and it makes a ton of sense. However, Brady said there's "a lot of shortsightedness" when it comes to those who say the mobile QB is the wave of the future.