Tom Brady: "It Weeds The Weak-Minded Out"
September 7th, 2021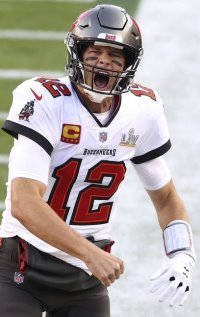 Tom Brady is very sure of what he'll yell when the Buccaneers' Super Bowl champion banner is lowered (raised?) on Thursday night.
 "I'll probably scream, 'Let's F'n Go,' which can be actually used in a lot of different ways," Brady told SiriusXM Mad Dog Radio yesterday.

"Been saying it a long time. It's usually a good luck feel to it. I actually know it's football season because that's when it usually comes out the cleanest and the most authoritatively."
That was fun to hear, but Joe was more interested in Brady's view on how opening day means it's time to crush the weak and start bullying opponents.
"The intensity gets ramped up. The competition gets ramped up and it really weeds the people out. It weeds the weak-minded out. It weeds the physically weak out," Brady said. "The tough guys rise up and they rise to the occasion in sports. And that's what competition is all about."
Now Bucs fans know why Joe didn't sleep last night! It's amazing to have a quarterback who speaks with a calm passion about choking out whoever stands in his way because he's got the tough guys on his side and that's what winners do.
---
Enjoy The Ira Kaufman Podcast, the annual prediction episode!