Tom Brady Hates Salad Bars
September 17th, 2021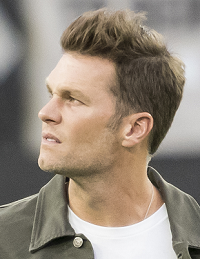 While many Golden Corral restaurants have reopened across the Tampa Bay area, the king of the Buccaneers doesn't give a crap.
The man has no interest in grabbing a set of tongs and loading his plate with spring mix, sliced tomatoes and sliced avocados. Heck Tom Brady probably never would have even set foot in the Sweet Tomatoes on Dale Mabry Highway (may the chain rest in peace).
Brady made this clear on his Let's Go! show on SiriusXM Mad Dog Radio this week. Here was his exchange with host Jim Gray.
Jim Gray: What salad bar item makes you the angriest?
Tom Brady: Oh, God. All of them. All of them. I just think all that stuff that's been sitting out for hours (inhales deeply). Not my favorite. I'm not a big buffet-type place [guy] salad bar. No.
The great irony here is Brady is a Subway spokesperson. And anyone who has stepped in a Subway knows its sandwich toppings routinely sit around for many hours before a worker slaps them on a sandwich.
On a recent Buccaneers.com roundtable video, Brady was asked to name what five foods he would take to a deserted island. Brady refused to answer, citing how it would be all over social media.
Rob Gronkowski stepped in to say Brady definitely would bring mixed nuts and avocados, but Gronk was stumped there. A pensive Mike Evans, sitting next to Brady, said he has never seen Brady eat anything.
Well deserved, though Bronze might warrant a recount.
This Publix news is a godsend! https://t.co/ANkplGXcz6

— JoeBucsFan (@JoeBucsFan) September 15, 2021