Saints To Play Their Home Opener In Jacksonville
September 1st, 2021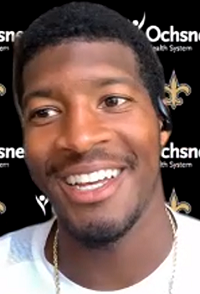 The obstacles keep mounting for the Bucs' primary division rival.
Hurricane Ida already has the slimy Saints practicing outside Louisiana after their canceled preseason finale. Now comes word that New Orleans will play its "home opener" against the Green Bay Packers in Jacksonville on Sunday, Sept. 12, at 4:25 p.m., per the Times-Picayune.
This kind of reminds Joe of when the Bucs lost their 2017 home opener to a storm. In that case, Tampa Bay didn't play Week 1 and subsequently lost its bye week as a result.
The Bucs won easily on opening day and limped to a 5-11 finish.
The move to Jacksonville is intriguing. First, the Saints are a dome team that plays on turf. Could they not find another another venue other than the outdoor, likely rainy or humid swelter of Jacksonville? Second, Aaron Rodgers has said previously that he's not a fan of the extreme heat of Florida and how the climate here can affect turf. So perhaps that was a consideration.
Joe wonders if there will be more Packers fans in attendance than Saints fans. If so, Saints starter Jameis Winston will be used to that after his years playing at the stadium formerly known as the Den of Depression.