One Of Two Clean Quarterbacks
September 14th, 2021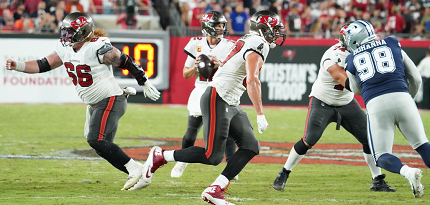 Every sober Bucs fan knows the surest path to the first-round bye in the NFC playoffs.
Yeah, Joe will type it anyway: Tom Brady must stay healthy and that starts and ends with great pass protection.
For Joe, the Bucs' offensive line was the brightest star on opening night. Brady had 50 pass attempts and didn't get sacked once. Officially, he only took two hits.
That's an uncommon feat in the NFL and now that a full Week 1 slate is in the books, Joe can add more persepctive.
Only one other team didn't have its quarterback sacked in Week 1, and that was the slimy Saints and starter Jameis Winston along with occasional stand-in Taysom Hill. But the Jameis-Hill combination only attempted 21 passes and Jameis ran for his life a few times.
Man, general manager Jason Licht has built one hell of a pass-blocking line.