Michael Clayton: Ronald Jones Doesn't Understand Bucs' Culture
September 21st, 2021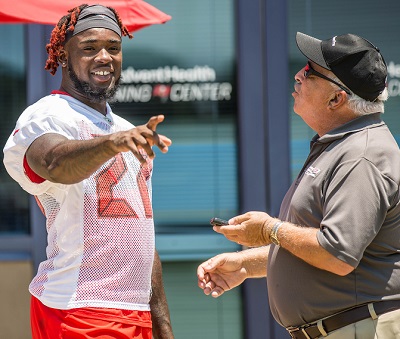 If there's one former Buccaneer who knows a lot about the psychology and mentality of a football player, it's blocking icon Michael Clayton.
He explored plenty of that in his book, Chasing My Rookie Year.
So Joe was eager to hear the retired wide receiver's comments today about 24-year-old Ronald Jones, who has struggled mentally to start his fourth season.
Clayton told WDAE radio that this might just be who Jones is after highs and lows in the past. And Clayton had a firm opinion about RoJo catching a pass against the Falcons and seemingly walking out of bounds just shy of a first down rather than taking on a defender and fighting for yardage.
"I wouldn't say mental mistakes, honestly, that's just the player I believe he is. We've all heard Bruce at times call him immature or that he has to grow up a little bit. Those are just signs of a young player not understanding everything that entails being a great football player," Clayton began.

"I believe Ronald Jones has tremendous upside, tremendous potential, but he's just a young player right now. When you have an opportunity to finish on the sideline, that's just not for the culture of the team, that's for the team that you're playing next week — to let them know that every time you touch the rock that you're trying to dominate the play. And when you miss out on opportunities like that, I just don't feel like you understand the culture of a championship-winning team. And it hurts him at times. But will he have an opportunity to grow? Yes. Because Bruce Arians believes in him. Bruce Arians has given him opportunity after opportunity, even though he's been the same player."
Clayton suggested RoJo just has to run hard and everything will fall into place.
The wacky thing about RoJo is that NFL Films microphones caught Tyrann Matthieu lauding RoJo on the Chiefs' sidelines last season for running with incredible fire and passion.
Bucs fans have seen RoJo get the job done. Heck the guy averaged 5.1 yards per carry last season as the Bucs' full-time running back, the best-ever finish in that category for a Tampa Bay starter.
Joe has no idea how Arians will re-ignite a fire under RoJo. Perhaps Arians' public comments yesterday were the next step.
---
Enjoy Tuesday's Ira Kaufman Podcast