How Long Were Bucs Pursuing Richard Sherman?
September 29th, 2021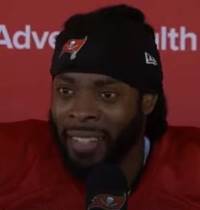 So what exactly is the timeline from when the Bucs started to reach out to gauge All-Pro cornerback Richard Sherman's interest in playing in Tampa Bay?
It sure seems based on what Sherman said today when he first met the local pen and mic club that the two parties were in communication longer than two weeks.
Some 10 days ago in a piece for NFL Network, Tom Pelissero first reported that the Bucs and Sherman were talking turkey about bringing the former Seahawks and 49ers star to Tampa Bay. Bucco Bruce Arians confirmed that report later the same day.
Now today when Sherman was fielding questions from the local Fourth Estate, he had a very curious comment about his timeline in arriving to west-central Florida.
"I tried to wait as long as I could to avoid the heat," Sherman said. "I think I timed it right."
Sherman is no dummy. He's a Stanford man. Just listening to him speak you can tell this guy is very intelligent and thoughtful.
Even Sherman knows weather — doesn't matter if it is California, Washington or Florida — changes little within two weeks. Often, not at all. Sherman also noted this is the first time in his professional career he has missed training camp.
It sure has the scent that the Bucs reached out to Sherman quite a bit longer than 10 days ago.