"Don't Get Bored Being Dominant"
September 20th, 2021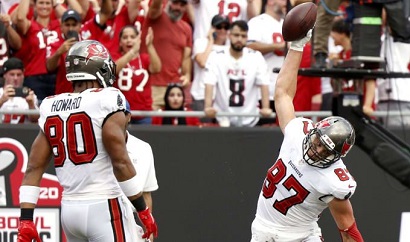 Joe blubbered all spring and summer how the 2021 Bucs offense could be the greatest in NFL history.
And here we are, the offense isn't firing on all cylinders but it's scoring a lot of points and Tom Brady is on pace for 76 touchdown passes through two games.
Former Bucs tight end Anthony Becht, who used to break down game film for Buccaneers.com before he started working Jets broadcasts, is incredibly impressed by what he sees from Brady and friends through two games.
Not one for hyperbole, Becht said twice on WDAE radio today that he advises the Bucs, "Don't get bored being dominant," adding, "that may be a t-shirt."
He marvled at the Bucs formational diversity in their pass-first offense, noting the Bucs can spread you out and get big in jumbo packages with Josh Wells.
Becht said he's seeing multiple guys open repeatedly and noted that 28 points in a half would never be a surprise from the Bucs offense.
Yeah, there's more, per Becht, "overall fantastic protection" from the offensive line." And he loved the way offensive line came off the ball in the run game and  Leonard Fournette's pass blocking.
What a time to be alive. The Bucs are on a 10-game winning streak and are leaving a lot of points in the field.