Dixie Chicks At Bucs, TV Map
September 18th, 2021
Will you get to see the Bucs host the Dixie Chicks in the Bucs' first Sunday afternoon game of the 2021 season on free TV? Joe is here to help.

Unless you live in Florida, Georgia, New England or the central mountain states, it is highly unlikely you will get the game broadcast over your local FOX affiliate. In fact, not all of Florida or Georgia will have the game free, if you can imagine!
Of course, Bucs fans can head over to Big Storm Brewery in Clearwater, Odessa, Cape Coral or downtown Orlando at the Amway Center to watch the game. Naturally, visiting your neighborhood Hooters is always a wise move.
Kevin Burkhardt and former Stinking Panthers tight end Greg Olsen will handle the call for FOX.
(Streaming information and options will be included in "Gameday Tampa Bay" post scheduled to publish here at midnight.)
As always, TV coverage maps are courtesy of 506sports.com.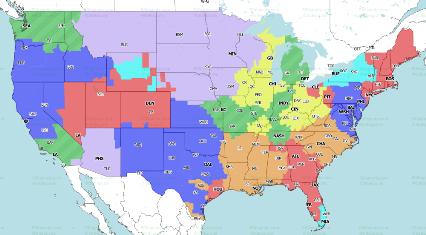 Red: Atlanta @ Tampa Bay (LATE)
Blue: San Francisco @ Philadelphia
Green: LA Rams @ Indianapolis
Yellow: Cincinnati @ Chicago
Orange: New Orleans @ Carolina
Light Blue: Buffalo @ Miami
Purple: Minnesota @ Arizona (LATE)