Chris Godwin And Offensive Interference
September 13th, 2021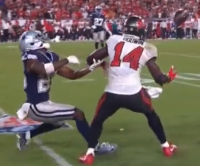 Joe hates to type the following, but Joe just doesn't trust referees.
Joe is of the same mind as Bill Belicheat: All plays should be reviewable with the number of coaches' challenges remaining the same.
Not reviewable was the big play that set up the Bucs' winning field goal Thursday night, Chris Godwin's 18-yard catch near the left sideline. The back-shoulder throw from Tom Brady looked as if Godwin could have been flagged for offensive interference.
Joe has seen less contact flagged and seen more contact ignored by referees in the past. Even NBC analyst Cris Collinsworth suggested it was a flip of the coin.
Patrik Walker of CBS Sports seems to think that flag or no flag, it was still likely Mr. Seven Rings would have gotten the Bucs in position to have kicker Ryan Succop win the game.
Turning point

There were several turning points in this game for both teams, but the one you'll see argued this entire week (and maybe longer) is the following, when Godwin extends his arms to create space against Jourdan Lewis and reel in the catch that ultimately set up the game-winning kick by Succop. If this is called for offensive pass interference, the Buccaneers are backed up into Cowboys territory with a loss of downs and precious seconds burned off of the clock.

Would Brady have still found a way to make magic happen?

Quite possibly, but the world will never know, making this non-call the most pivotal point in helping (key word: helping) to decide the outcome. The Cowboys achieved the rest by waffling between great football and bad football.
Even if that play was reviewable, who knows what the zebras would have called? Besides, it sure looked to Joe in slow motion that Cowboys corner Jourdan Lewis was doing a bit of a flop to draw a penalty, which may have persuaded the zebras to keep their flags in their pants.
Should this have been OPI?
pic.twitter.com/fdDJ7shq6C

— PFF (@PFF) September 10, 2021