Bucs Captains Named
September 6th, 2021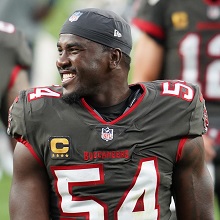 For those into the results of Bucs players voting for their team captains, the results are in.
And the quarterback is a captain! (That's noteworthy in Tampa, where Josh Freeman and Jameis Winston once were shunned by teammates at the ballot box.).
In addition to Tom Brady, Mike Evans is the other captain from the offense. Lavonte David and Devin White represent the defense, and Kevin Minter and punter Bradley Pinion wear the "C" for special teams.