Buccaneers Game Is Not Sold Out
September 17th, 2021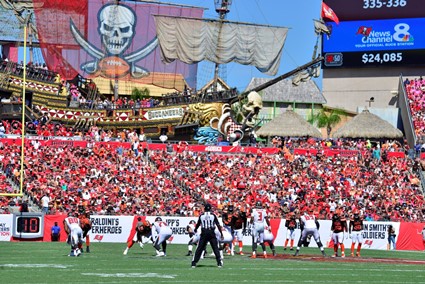 A big load of seats is available all around The Licht House for Sunday's game against the Falcons, and they are "standard" seats at TicketMaster, not the scalp jobs known as "Verified Resale."
How could this be with the stadium "sold out" to season pass holders?
The truth doesn't really matter. The bottom line is there are a smattering of cheaper and more expensive seats available all over the east (sunny) side.
The Bucs emailed fans recently saying the Falcons returned some of their allotment of tickets, but what's available certainly seems like a lot more than that.
Joe is happy for Bucs fans who wanted to score tickets to just one game without paying the jacked up prices seen for the opener against the Cowboys.
If you can't go to the game, do head to Publix and stock up on Bromosa from Big Storm Brewery. You will be so, so glad you did.
We got a medal BRO!

In case you haven't tried our award winning beer, you can now find Bromosa @Publix stores throughout central Florida.

Stop by to pick up a 4-PK, or two or three today!! #CraftBeer #bromosa #Beer #WINNER pic.twitter.com/3ZyFdpjAm8

— Big Storm Brewing Co (@BigStormBrewing) September 15, 2021