Bruce Arians Shares Sideline Message For Opening Night
September 3rd, 2021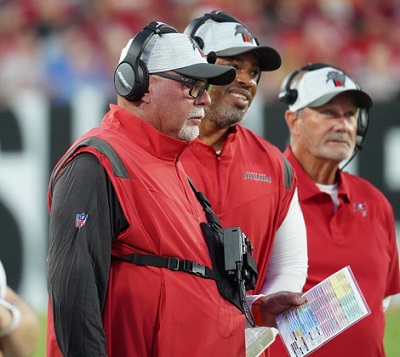 Bucco Bruce Arians is ready for a moment that will send Bucs fans into absolute ecstasy next week.
That's when officials and staff at The Licht House will reveal the Buccaneers' new Super Bowl banner before kickoff against the Cowboys.
For Arians, it's sort of a reminder of what he wants his team to forget, he explained to CBS Sports Radio today.
"When they drop that banner Thursday night, I'm going to look at the guys on the sideline, 'This isn't yours, baby. That was last year's team. And hopefully you guys can win this ballgame and move on,"' Arians said.
Arians already had Team Glazer ditch various championship banners around One Buc Palace. He does not want anyone thinking of last season, yet that's what will slap players minutes before the 2021 action gets cooking.
Joe is confident the message will get through.
Arians also explained that Tom Brady already had moved on to 2021 within a week of winning the Super Bowl. The head coach did not expect other Bucs to do that, but he expects their mentality to be there now and to not be affected by the banner reveal.