Bruce Arians Says He's Having Too Much Fun To Quit
September 23rd, 2021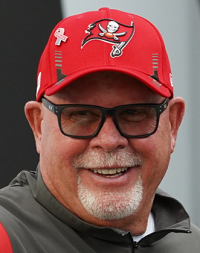 Tampa Bay's greatest head coach turns 69 next month and sounds like a man at Busch Gardens without a bunch of kids killing his vibe.
Bucco Bruce Arians was a guest of ESPN Radio this morning and was asked by a former Bucs great how long he wants to keep grinding.
Arians sort of rejected the notion that he's feeling any wear and tear.
Keyshawn Johnson: How much longer are you going to wake up, go in, watch film and do all this all over again every single year?

Bruce Arians: I'm having so much fun right now, Key, I don't know. You know, there's going to be a day when I wake up and say, 'I don't want to go to work.' That hasn't happened yet. I love my guys. We have a great staff. Now if the staff gets all broken up — and I hope some of those guys get head coaching jobs; they deserve it — then maybe we'll re-evaluate. But right now I'm having too much fun.
Joe was glad to hear this. Careful what you wish for if you think Arians riding off on Devin White's horse is just fine because Todd Bowles will step in.
Team Glazer made the right move giving Arians a raise without being asked this offseason. And Joe suspects money will be a factor whether Arians admits that publicly or not.
Everyone has a price, and if Arians' health is good, Team Glazer should find that price and meet it.