Bruce Arians Outlines Defensive Improvement
September 4th, 2021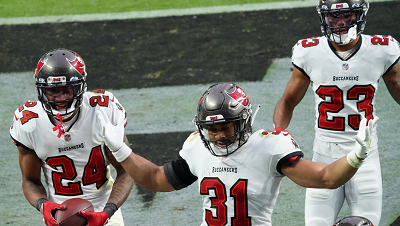 So what will take the Bucs to the next level of defensive performance?
Bucco Bruce Arians answered the question yesterday.
Tampa Bay was a top-10 defense all last season and some would say it looked like they had a definite top-5 unit through December, January and February.
Rich Eisen asked Arians how the group that stymied Patrick Mahomes in the Super Bowl is better today.
"I think our young secondary now kind of understands why they do things," Arians explained. "They knew what to do but to know why you're doing it and what you're trying to beat, the route concepts and all the things that Todd [Bowles] has taught those guys, adding some younger players to the mix, it's been fun to watch their growth."
Great point by Arians. It's called being seasoned and smarter.
All five of the key pieces in the defensive backfield have three years or less of experience. Throw in Mike Edwards, Devin White and Vita Vea, and that's three more NFL youngsters with huge roles.
Joe feels confident in the defensive backs collectively taking a step up this season, which could be critical if Jason Pierre-Paul, Lavonte David and/or Ndamukong Suh start to look old.
As a 1A answer, Arians also mentioned the addition of rookie Joe Tryon as a reason the defense should be improved.