Arians Blames Sack-Fumble On Tom Brady
September 21st, 2021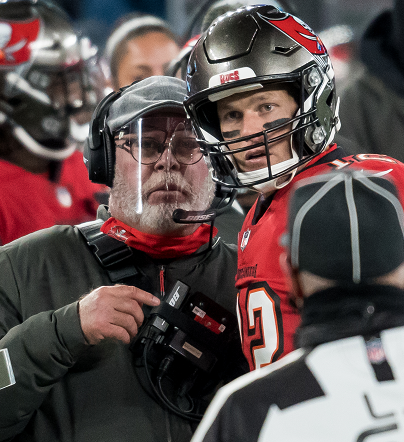 Last year, some moronic analysts blasted Bucco Bruce Arians for pointing public fingers of blame at Tom Brady and acted like Arians didn't know how to coach a superstar quarterback.
NFL fans know how the story ended. It was a terrible take and the Bucs won the Super Bowl.
So it's no surprise that Arians isn't hesititating to point a finger at Brady when he screws up this season — especially when it irks Arians for an entire game as it did Sunday.
Brady was sacked three times by the Falcons, and Arians dove deeper on the sacks this evening on WDAE radio.
"One we flat missed the guy, and one other he held the ball too long," Arians said of Brady.

"You know, the sack-fumble, he just should have got that ball out of his hands. He was getting a little greedy and should have got the ball out of his hand and we got a field goal. And of all the drives in the game, that was the one I was most disappointed in him. Because that was when we got the penalty, we were going in to score and we get the penalty for roughing and then we get the sack/fumble. It should have been 14 nothing. That put me in a bad mood for the rest of the game."
For those hunting for controversy, notice Arians said that drive was the one that "most disappointed him."
Like every sane Bucs fans, Joe is not concerned about Brady's play or his relationship with Arians. They're just two greats striving for perfection.
As for Donovan Smith, now you know he didn't get dinged to hard in the film room on Monday.
You can watch the sack that pissed off Arians below.
Brady is SACKED and we recover the fumble!

📺: FOX | @dantefowler | @MykalWalker3 pic.twitter.com/z4GCzS5ZtU

— Atlanta Falcons (@AtlantaFalcons) September 19, 2021
Enjoy today's Ira Kaufman Podcast.