Tom Brady The Punter & The Helmet Thrower
August 1st, 2021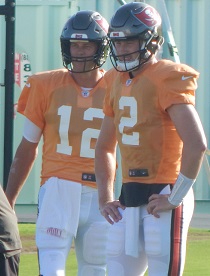 Frustration was bubbling over for Tom Brady in a big way today at One Buc Palace.
Twice, in limited 11-on-11 work, Brady's first team had to punt. And after the first time, Brady himself punted the ball in frustration after the third-down fail. Not a bad kick by Brady, who lofted the ball into the adjacent field.
In that series, Brady opened by hitting Tyler Johnson on a short pass, followed by a roughly 11-yard out route to Rob Gronkowski with Carlton Davis covering Gronk. Then a short throw was followed by Anthony Nelson stuffing Ronald Jones on a run, and then Brady was sacked (no hitting the QB) by Shaq Barrett.
Joe asked Ronald Jones about the Brady punt after practice, and RoJo smiled and said, "That's what makes Brady great," noting his fire to win and take advantage of every snap.
On the final 11-on-11 series — and the first following his punt — Brady, in up-tempo mode, completed passes in succession to Scotty Miller, Mike Evans and Giovani Bernard — all short.
Then Miller seemed to either lose his footing or be off on a route break on first down for an incompletion. Then Vita Vea blew through right guard/center for a sack. On third down, Brady overthrew Miller on a deep ball. Then Brady ripped his helmet off his head with two hands and slammed it to the turf.
The Bucs are back practicing tomorrow morning.