SummerSlam At One Buc Palace
August 19th, 2021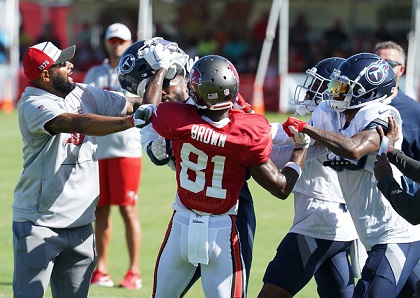 It was a loaded fight card at One Buc Palace today.
Without question today was the most fun Bucs practice Joe has been to.
By Joe's count, there were five fights/wrestling matches at the second of two Titans-Bucs controlled scrimmages.
The way guys were going at it, it was more like uncontrolled scrimmages.
The main event was actually the first fight early in practice during the period when Bucs media relations allowed photos. That's generally the first 30 minutes (if the Bucs don't shut photogs down earlier).
Brown tangled with Titans corner Chris Jackson. Now the Titans have numbers that look similar. Add the fact that players have a habit of rolling up their practice jerseys under their shoulder pads, much of the numbers are hidden. So identifying guys can be a puzzle.
Joe's notes have "25" as guarding/holding Antonio Brown in a one-on-one session that precipitated the Brown bout with Chris Jackson. But 25 is Titans running Brian Hill.
Other reporters/radio hosts who witnessed the play tried to ID the correct cornerback, and they also believed "25" was guarding Brown. But there is no doubt that "36" (Chris Jackson) was trading wild swings with Brown on the sideline just after the play.
Given that Jackson and Brown were going at it, and with the number font of some Titans players looking similar, Joe's going to take an educated guess that it was Jackson who was guarding Brown.
Why the hell would Titans coach Mike Vrabel have a running back guarding Brown?
Anyway, whoever was guarding Brown was pulling Brown's jersey so blatantly, if a guy did that to a girl on the sidewalk he'd have been thrown in a cage with a sexual assault charge slapped on him.
There isn't a zebra in America who would not have thrown a flag on the play. It was so obvious.
So after the play, there was a referee standing just outside the end zone near the goal post. In a tone of voice almost laughing, the referee told Jackson that was a big-time hold and to watch it. Jackson responded almost indignantly, that Brown was "… [H]olding me all the way!"
Jackson also complained to the ref that Brown jammed his hand in Jackson's face.
This happened right in front of the Titans' "sideline," the "left" sideline for the Bucs as they were facing south towards the Glazer Shed. The referee was standing near the end zone that parallels the Glazer Shed.
Yes, in practices, players sometimes stand on the sidelines, depending on the drill, stretched all the way to the goal line and sometimes past the goal line.
Jackson was still mumbling out loud as he headed back to the Titans "sideline," peeved that the ref didn't call out Brown for hassling him (referees won't throw flags in one-on-one drills). Jackson and Brown then exchanged words and confronted each other — and it was on!
Brown and Jackson were wildly swinging on each other and photos show Brown clearly landing a left hook on Jackson's mouth.
After the Brown-Jackson card main event was broken up, it appeared Brown was thrown out of practice as he headed into One Buc Palace by himself. Roughly 20 minutes later, Brown returned in full pads with his helmet, seemingly ready to resume practicing.
While that was the main event, it was only an appetizer. By Joe's count there were four other fights, two minor, that made for a thoroughly entertaining practice that included some sick catches by Mike Evans, Chris Godwin and foot-rubbing, car-littering Rob Gronkowski.
Shortly after the Brown-Jackson bout, Bucs backup corner Herb Miller was involved in a physical row with an unidentified Titans gunner on punt drills.
While working on punts with just gunners and their defenders on the field, Miller got into a wrestling match with a Tennessee gunner and Miller slammed him to the turf after the two tightly danced for a bit.
The benches emptied onto Field 1, the field closest to the bleachers.
Maybe 10 minutes later, Devin White got into a massive wrestling match that also included SnoopDog McPlaybook.
That hassle began when White said he saw "one of my brothers get tossed around" by two Titans. "So I just tried to help him, that's all."
White claimed he didn't know who the Bucs player was that got tossed. But he couldn't just stand there and let it go.
Joe was told by ESPN Titans beat guy Turron Davenport that White's main combatant was Titans receiver Cam Batson. Joe did see that McPlaybook was heavily involved in the fracas and from what Joe can gather, McPlaybook was the third guy in the fight.
It stands to reason the two Titans that White claimed were over-the-top with the unidentified Bucs player were Batson and McPlaybook.
The Batson/McPlaybook-White bout was heavy enough and long enough that Titans coach Mike Vrabel was one of the first to try to break it up.
A few minutes later, during a special teams drill, a fourth fight broke out. Joe couldn't tell who was involved in that because it quickly turned into a baseball-type brawl where both benches quickly jumped on the field and were hugging and grabbing each other (Joe heard K.J. Britt and Tennessee's Nick Dzubnar were exchanging pleasantries, but could not confirm).
The fifth bout happened when Playoff Lenny and Jeffery Simmons went at each other.
Afterward, Simmons — while praising the opportunity to test himself against Ryan Jensen and Ali Marpet — brushed off the fights as nothing more than competitors getting their juices flowing.
Both White and Jamel Dean concurred.
"Great practice!" White said afterward. "A lot of grown men competing with emotion. Things happen. You have to protect your brother.

"We were all tossing and turning. … Emotion is going. You see the same color jersey with two others that's the opposite-colors, you just want to help your guy."
Dean agreed.
"It's hot. It's intense. And we are just competitors," Dean said of the fights and wrestling matches. "That's just part of the game."
So yeah, it was a fun day at One Buc Palace. Saw several guys for both teams making plays. And then had some WWE action sprinkled in.
Deadpanned Bucs Super Bowl-winning coach Bucco Bruce Arians after practice, "I didn't see any fighting."
It was almost like a teaser for this weekend's SummerSlam in Las Vegas.