Mike Evans Talks "Lotta Juice" & Best Receiving Corps
August 7th, 2021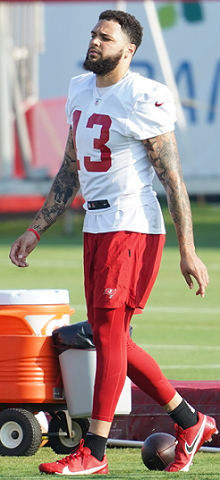 Joe refuses to go completely wild for a rookie receiver who isn't going to play very much on offense.
It's just not going to happen on these pages, not this year. Yes, Jaelon Darden has landed in the perfect receiver incubator out of the University of North Texas. The small speedster slot guy can work and flourish in training camp without the pressure of a major role or expectations.
"Lotta juice" is how Mike Evans described him today after practice.
Joe hears lots of love for Darden's quicks and energy around One Buc Palace. It's noteworthy because it's difficult to stand out for speed when you're on a roster with Scotty Miller and Antonio Brown.
Evans went on to say that from top to bottom this is the best Bucs receiving corps he's been around. And certainly that's no surprise. The days of Donteea Dye, Cecil Shorts and Freddie Martino (still playing in the velvet-lined lounge of the Vero Beach Ramada Inn) are long gone.
Joe is confident the 2021 Tampa Bay receiving unit could go down as the best single-season group in the history of the NFL, especially if Miller can continue to average 20 yards per catch like he did last year.