Messy In New Orleans
August 15th, 2021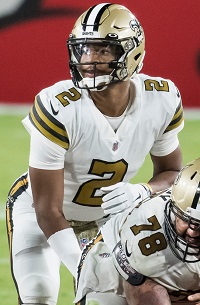 It's a safe bet that only one team might stand in the way of the Bucs winning their first NFC South crown since 2007.
That's the talented yet slimy Saints, last year's division champ.
Of course, Drew Brees retired and the Saints are trying to knock off the defending Super Bowl champs with a completely unproven gimmicky quarterback, Taysom Hill, and/or one of the most inconsistent quarterbacks in the history of professional football, Jameis Winston.
Joe watched the first half of the Saints-Ravens game last night and Joe was treated to some messy QB play from New Orleans.
What a beautiful sight it was.
Hill had a crappy short throw followed immediately by a bad interception on the Saints' second possession.
Winston was wonderfully inconsistent. Just when you thought he had discovered a rhythm, he was off-target on a deep ball and the ensuing tipped ball was picked off near the end of the half. The Ravens turned that miscue into a field goal as time expired in the second quarter.
Jameis was 7-of-12 for 96 yards with 1 TD and 1 INT. Hill started the game and was 8-of-12 for 81 yards and a pick.
Sean Payton wouldn't compare his QBs after the game.
Joe loves all the dysfunction in New Orleans. Imagine trying to knock off the Bucs without a decent quarterback.