Lots Of Special Teams Still Planned For Joe Tryon
August 23rd, 2021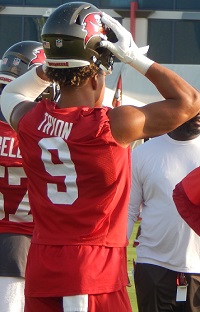 Joe's draft-night cringing will continue.
When Joe Tryon was drafted No. 32 overall as a potential manbeast edge rusher in the Jason Pierre-Paul mode, his new head coach said he would be a special teams warrior. Bucco Bruce Arians was fired up to see his athletic young prize perform on fourth.
Since then, Tryon has been very impressive in practice and his performance in two preseason games shows he is loaded with pass-rush talent. So would the Bucs still stay committed to playing Tryon on special teams and risking him getting injured there?
Joe asked Arians that today, and he fired back that absolutely would be a fixture on fourth down.
Arians noted that the Seattle Seahawks play all their starters on special teams and other teams use starters on special teams.
That's nice, but Joe doesn't care about other teams. The Rams don't play starters in preseason, for example. There's also a reason Antonio Brown isn't returning punts when he's the team's best punt returner.
Joe will continue to ask the football gods to spare Tryon and not let him become the next Jacquies Smith, the young and successful Bucs pass rusher whose career was torched when he blew his knee out covering a kickoff in 2016.