John Lynch Campaigns For Rondé Barber On The Hall Of Fame Stage
August 8th, 2021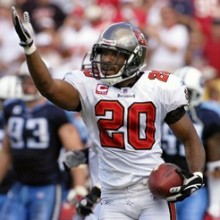 So Bucs icon John Lynch had his shining time on the big stage in Canton tonight, thanking all kinds of Buccaneers historical figures, including Sage JoeBucsFan.com columnist Ira Kaufman.
Lynch's enshrinement speech was about what one would expect, but he did take time — multiple times this Hall of Fame weekend — to campaign for his former Bucs brother Rondé Barber.
Barber was a Hall finalist for the first time in the winter, but he did not make the cut from 15 finalists to the final five who get in the Hall.
Lynch was part of a roundtable this weekend (see Tweet below) and he did not hesitate to explain Barber's just place in the Hall.
John Lynch on player he believes should be in HOF: #9sports pic.twitter.com/HP9o9sgGia

— Mike Klis (@mikeklis) August 8, 2021
Also, Lynch mentioned Barber belonging in the club during his induction speech tonight.
With so many Hall voters in attendance, and watching on TV, that could represent a huge boost for Barber's candidacy this winter.
Lynch closed his speech tonight with a call for societal unity.
Everyone else voting for John Lynch in an upcoming election? 🙋‍♂️ pic.twitter.com/kHcrrg8x35

— Evan Closky (@ECloskyWTSP) August 9, 2021