Impressive Pressure
August 26th, 2021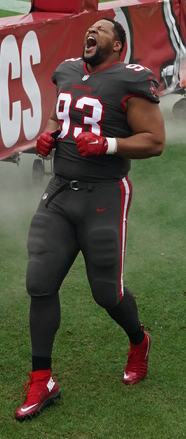 The NFL has mountains of technology-driven statistical data that is only shared with league and team employees.
It's called NextGen data that tracks sensors in players uniforms and in equipment.
It's rare to see these numbers, except in the occasional NFL.com story or at the NextGen Stats website, where the NFL comes clean on a few categories.
Hall of Fame personnel man Gil Brandt was typing a story for NFL.com recently naming the guys on one-year contracts that Brandt believes are the best value around the league.
Ndamukong Suh placed 10th on Brandt's list, but Joe was more interested in the explanation that also included NextGen data on Suh. "Suh also finished with 30 pressures, 12th-most among interior defensive linemen [last season]."
Ranking 12th in pressures via an objective pressure measurement is damn impressive for Suh.
Joe knows many fans want to see Jason Pierre-Paul, Shaq Barrett and rookie Joe Tryon-Shoyinka on the field at the same time, but Joe isn't very interested in taking Suh or Vita Vea off the field. Meanwhile, Will Gholston led the team in quarterback hits last season.
Let Suh (six sacks last year) hunt quarterbacks. In 2020, he had a bit of a revival in that area.
And Brandt is correct. For $9 million this season, future Hall of Famer and ironman Suh is a steal.