"Everybody Know Who We Are In The Running Game"
August 20th, 2021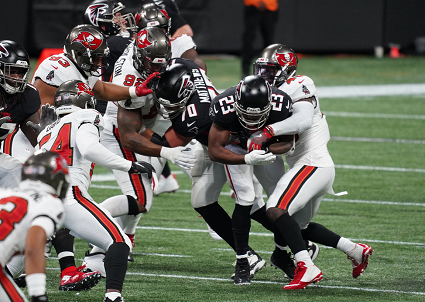 Multiple times yesterday, Buccaneers savior linebacker Devin White talked about the greatness of the Bucs' run defense.
In 2019 and 2020, the average yards per carry against the Bucs was the lowest in the NFL.
"Everybody know who we are in the running game," White said.
He's correct. The Bucs are completely dominant against the run. The numbers say this Bucs defense is significantly better against the run than the glory days defense of the last Super Bowl team.
Greg Schiano's Bucs were No. 1 against the run in 2012. Lovie Smith got the Bucs to No. 2 against the run in 2015. But the current team is at a very different level over two years.
White acknowledged that a goal of the team is to get better against the run, and he noted that the Titans exposed them on Wednesday. That was a little disturbing considering Tennessee was missing Derrick Henry and multiple offensive linemen, but the defense fixed the issues and was dominant on Thursday, per White.
Joe wonders whether this is the year teams give up on running against the Bucs, or at least completely change their approach to attacking Tampa Bay.
Offensive coordinators are always trying to adapt, and things could look very different for the Bucs defense this season after two years of dominance against the run. Would you try again to run against this group?