"Epic" Training Camp Moment For Jaelon Darden
August 9th, 2021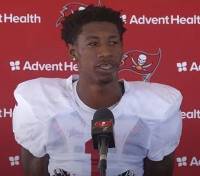 Of course, if a rookie is in training camp with the Super Bowl champions, that's a dream come true. Or, as some would say, "Epic."
Well, that's exactly what Bucs rookie wide receiver Jaelon Darden said on Saturday.
Darden, the Bucs' fourth-round pick, has been getting a lot of snaps and a good chunk with the first-team offense. And on Friday, sort of a dream of Darden's came true when he caught a pass in the end zone for a touchdown from park-violating, home-invading, NFLPA-ignoring, down-forgetting, handshake-stiffing, jet-ski-losing, biscuit-baking, tequila-shooting, smartphone-phobic, waffle-grilling, trophy-throwing, roller-coaster-scared, numbers-rules-peeved, helmet-tossing, football-punting, Bucs-Super Bowl-winning quarterback Tom Brady.
Darden confessed it was a surreal moment.
"That was kind of epic for me," Darden said. "I love TB. I have been watching him since I was younger so it's crazy to be on the same field as him and catching the football from him in the end zone."
Even wilder for Darden is that that he possibly received the stamp of approval from Brady before the draft. Super Bowl-winning coach Bucco Bruce Arians put Brady to work scouting receivers that had already caught the eye of Arians and Bucs AC/DC-loving general manager Jason Licht.
"Definitely means a lot," Darden said when asked for his reaction to Brady studying his college tape at North Texas. "He sees the work I am putting in on and off the field. And he sees the type of player I am and that I love the game."
Brady has already shown he will throw the ball to Darden in practice. (Joe has a hunch Brady doesn't really give a hoot who you are so long as a receiver wears the same color jersey and gets open.)
Even Stevie Wonder can see the absolute respect the young Bucs have for Mr. Seven Rings. Brady has these guys eating out of his hand, and for good reason.
The young players, maybe just as much as the veteran Bucs, want to win badly.