Chris Godwin: Antonio Brown = Different Training camp
August 4th, 2021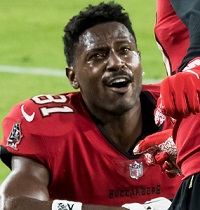 Yes, there really is something different about this Bucs team when it comes to the grind of July and August football.
He's the little receiver with massive energy, and Joe's not talking about rookie fourth-round pick Jaelon Darden.
Antonio Brown is the sort of the Energizer Bunny of Bucs practice. That's been his reputation for years, and it hasn't waned at 33 years old. Joe sees it and heard about it privately. Bucco Bruce Arians has talked publicly about Brown's fire and it's not lost on his teammates.
Pro Bowl receiver Chris Godwin says it's changed Bucs training camp.
"It's definitely different. It's different, like, energy," Godwin said of Brown's impact.

"The competition raises. The expectation level raises. But it's also more fun," Godwin said of Brown. "You know, we get to talk shop; I try to pick his brain as much as I can about some of his experiences and the things he's had success with. Like he's a master at sideline catches; they call him Tony Toetap for a reason. And so like little stuff like that, try to pick his brain on his mentality and his approach. … The overall competition level and us pushing each other is probably the biggest difference."
Remember, Brown showed up in October last season. It's easy to be a spark when you're a new guy walking in off the street. It's different when you're a veteran who recently had knee surgery.
Joe can't wait to see what kind of season Brown turns in; Joe doesn't have great expectations and simply wants to enjoy watching it unfold.
Godwin added that Brown is so eager to help young players and share all his sage wisdom.
If Brown had a strong year and continues to play deputy mentor-in-chief at One Buc Palace, then he'll turn out to be one of the great Bucs free agency steals of all-time.