Camp Cupcake Day 18 Practice Notes
August 17th, 2021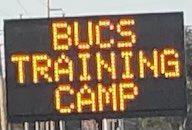 Underwear football still pollutes One Buc Palace during Camp Cupcake. And lots of obstructed views today as well. If Joe were coaching, Joe probably wouldn't want pesky reporters watching underwear football practice either in the fourth week of training camp.
As always, Joe cautions readers that underwear football is quite literally flag football without the flags. Linemen basically bro-hug each other on each snap. No hitting or tackling of any sort is allowed.
In other words, it's Roger Goodell's kinda football.
It's quite possible more footballs hit the ground than players.
* Blaine Gabbert hits Tyler Johnson in traffic down the right sideline on a deep route.
* Playoff Lenny off right tackle.
* Ronald Jones is stuffed up the middle but he pops outside to the right and makes something out of nothing.
* Good sign: Giovani Bernard really hits the hole fast.
* (Obstructed view) Ryan Griffin tried a pass to (Joe was screened and couldn't see the number at all) in the right flat and Carlton Davis broke up the pass.
* Chris Godwin takes a medium pass over the middle from Tom Brady.
* Brady back to pass. He looks. He looks. He looks some more. Still has a clean pocket and he dumps off to Bernard on a short pass to the left. Bernard was easily the third or fourth option.
* Brady dirts the ball. Whistle was blown so it counts as a coverage sack.
* We have referees today! They are likely in town for the controlled scrimmage with the Titans the next two days. Joe's pretty sure it's the first practice this summer with zebras. Joe just hopes the a-hole who threw a flag on Joe Tryon Saturday night isn't among them. That flag still burns Joe up.
* Speaking of the Titans, how come no one shortens their name the way the Jaguars are called the "Jags?"
* "He don't like the ball in his hands!" Gabbert tries to force a ball to Codey McElroy over the left seam and Ross Cockrell drops a pick.
* Gabbert connects with Johnson again down the left sideline and Johnson runs through traffic for a touchdown. There are sometimes Johnson reminds Joe of Godwin.
* Gabbert seems to be always moving his feet when he throws the ball. Maybe it is just Joe's imagination but today he noticed Gabbert often was either on the move or jumping when he released the ball. Not sure if that's something new or just now getting around to catching it.
* John Molchon rolls a snap to Griffin and Joe heard a coach holler, "C'mon!"
* 7-on-7 (obstructed view)! Brady hits McElroy deep down the right side.
* This was cool: Brady perfectly hits Jaelon Darden as Darden got position on Antoine Winfield standing right in front of him. As soon as Darden got the ball, he spun off of Winfield to the inside and bolted straight upfield to the goal line. Helluva move by Darden.
* Is Justin Watson renting?
* Foot-rubbing Rob Gronkowski on a crossing pattern from right to left is hit right in the hands by Brady but Gronk has the ball bounce way off his hands. Otherwise, it would have been a pretty play and throw.
* Brady tries to drop a ball in the basket throwing over Gronk's shoulder toward the right sideline. But it was a wee bit too far for Gronk to get his mitts on the ball.
* RoJo gets behind the defense running down the left sideline and Brady hits him perfectly in stride for a big score. The crowd in the bleachers liked that as it happened right in front of them.
* 11-on-11 (obstructed view)! Johnson pulls in a Brady pass along the left sideline.
* Ke'Shawn Vaughn tries to run left and there is nothing there.
* Gabbert to McElroy down the left side.
* Mike Evans catches a pass from Brady along the left sideline right in front of Jamel Dean.
* Brady has enough time to order a Cuban sandwich from La Teresita — if he ate Cuban sandwiches — and eventually throws to Antonio Brown short left.
* Think Lenny! Brady had Playoff Lenny open on the left side but Playoff Lenny took off running before he firmly secured the ball. Incomplete.
* With projected No. 2 center Robert Hainsey on floppy hat patrol, Aaron Stinnie is getting some snaps in with the second team.
* Gabbert throws low and Jaydon Mickens is able to dig the ball up over the middle.
* Evans catches a slant pass from Brady as he came in from the left side.
* Some 20 minutes after practice was over, there was Kyle Trask, in the broiling Florida midday sun, throwing passes to Jaydon Mickens.