Bucs Training Camp Practice Notes Day 13
August 10th, 2021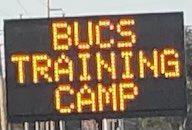 Whenever you see the flaccid Bucs flag, you know it's going to be a scorcher at Bucs training camp. And it was (both the limp flag and the sauna that was practice).
Some cool stuff in today's practice:
* Blaine Gabbert takes two steps left and then hands the ball off to Troymaine Pope who runs for a first down.
* C.J. Prosise (yes, Joe checked the roster) tries to run left but is bottled up. Then he cuts back and tries and get something up the middle.
* Playoff Lenny tries to run right and there is nothing there. Defense celebrates a big stop.
* On a play-action pass, Tom Brady perfectly hits Mike Evans in stride on a slant pass from the right side.
* Chris Godwin Special: Brady finds Godwin down the left side and the Penn State product pulls it in despite defenders all around.
* Playoff Lenny runs left but patiently, waiting for a hole to open up. When it does, Playoff Lenny plants and foot and darts up through the hole and runs for about 10 yards.
* Jason Pierre-Paul bats down a Brady pass and then hollers with delight.
* Pope gets a pass in the left flat from Gabbert.
* Obstructed view: Brady has a pass blocked at the line and Joe isn't sure if it was Joe Tryon or Devin White. Both were in the immediate area where the pass was blocked.
* Godwin is wide arse open along the left sideline and Brady hits him just as Godwin gets two feet tapped down.
* Brady gets the ball to Antonio Brown along the right side for a 10-yard gain.
* Goal line! More obstructed views. 🙁
* Brady hits Browns in the far-right corner of the end zone. Joe is 100 yards away and even with binoculars wasn't quite sure if Brown got both feet inbounds.
* Ronald Jones tries to run up the one-hole (between Ali Marpet and Ryan Jensen) and Will Gholston slams the door shut.
* Solid catch: Gabbert throws incredible low to Jaelon Darden along the right sideline in the end zone. It was nearly ankle-height. And Darden reached down and dug up the ball for a score.
* Brady throws low up the middle at the goal line and foot-rubbing Rob Gronkowski scoops it up for a score.
* No context Kyle Trask: During goal line drills, Trask is playing catch with a ballboy. Brady does this a lot too. Wonder if Trask is trying to mimic Brady? If so, smart.
* Tanner Hudson skies high in the far left corner of the end zone and out-wrestles Chris Cooper for the ball and a touchdown from Kyle Trask.
* Halftime: Bucs go inside the air-conditioned Glazer Shed to cool down for seven minutes, just like heading to the locker room at halftime of a game.
* WHOA! After the halftime session, there is a one-on-one pass rushing/pass blocking drill right in front of the media tent. Guard Nick Leverett, who is also getting some work at tackle, pancakes JPP on consecutive plays. The first play Leverett put JPP flat on his back after JPP tried to go outside (after JPP laid on the ground long enough to appear hurt. But he flipped up onto his feet from being prone on his back without using his hands at all to get up — sort of like a gymnast or acrobat. This JPP is a freak of nature). The second play JPP tries to go inside on Leverett and the Rice product again puts JPP on the ground. Impressive!
* Back to 11-on-11: Virtual sack! Antoine Winfield somes racing in up the middle and "sacks" Brady. Of course, the whistle was blown and Brady was untouched. Otherwise, Brady likely would have been splashed.
* On a crossing pattern from right to left, Playoff Lenny catches a short pass from Brady. Playoff Lenny then cups up the left seams and turns the play into a helluva gain.
* Mike Evans is wide arse open down the left seam for Brady.
* Down the left sideline a Brady pass is a bit too far for Tyler Johnson. Carlton Davis was lurking.
* Two-minute drill! During a 20-minute session of two-minute drills, the Bucs went with the first-team, second-team and third-team offenses on different series. At no point did Trask take a snap. Could mean something; could mean nothing. Feel free to interpret this and make a rash conclusion however you wish.
* Playoff Lenny catches a pass between two defenders on the left side from Brady.
* Brady hits Giovani Bernard near the backline on the left side for a score.
* Playoff Lenny catches a pass from Brady just over the line.
* Brady waits and waits and waits and then fires to the far right corner of the end zone where Antonio Brown makes a one-handed catch!
* Gabbert to Hudson on a short pass.
* Ke'Shawn Vaughn tries to run left and there's no room at the inn.
* Dee Delaney breaks up a Ryan Griffin pass to the right sideline.
* Nice catch by Josh Pearson to the left for a score. Pass was thrown by Griffin.
* Griffin tries to hook up with Pearson again. This time on the far right corner of the end zone. Connection is good but was Pearson, who skied high for the pass, able to get two feet inbounds? No video avaiable and no instant replay. This will be a mystery for the ages.