Bucs Training Camp Notes Day 13
August 9th, 2021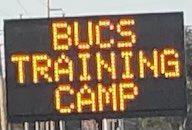 Joe's world famous training camp notes from this morning's hot practice are here! No running sprints or jailtime for readers either.
If, by chance, your favorite player isn't mentioned in the notes, Joe hopes this will satisfy you. That way (insert player's name) can be read.
* On a crossing pattern from right to left, Chris Godwin is able to haul in a Blaine Gabbert pass that was thrown behind him, turn up field along the left seam, and race for a score.
* Giovani Bernard grabs a Gabbert pass on the left side and gets positive yardage.
* Troymaine Pope gets loose on a run to the right for big yards.
* Godwin takes a short pass from Tom Brady on the right side and gouges the Bucs' defense.
* O.J. Howard hauls in a pass on the left side from Brady. Howard continues to get a lot of targets in training camp, now in its third week.
* Pick! Gabbert tries to force a pass to Travis Jonsen. Mike Edwards perfectly baited Gabbert, jumped the route and housed Gabbert's gift.
* Cool move by the rookie: Gabbert once again tries to hit Jonsen over the middle, although this was shorter. Outside linebacker Joe Tryon began his pass rush on the right side and then quickly peeled back to the middle. Tryon drills Jonsen just as the ball hit Jonsen's hands. Jonsen bobbled the and finally hung on despite Tryon and K.J. Britt wrestling with for the football.
* Wide-arse open Antonio Brown. The veteran receiver is just standing by himself along the right sideline maybe 20 yards downfield. Brady finds him and Brown does the rest, cutting left to the inside and it's off to the races for a score. The bleachers were full of fans this morning and they roared their approval.
* Godwin on a crossing pattern from left to right catches a Brady pass over the middle.
* Howard gets behind inside linebacker Joe Jones down the right seam and Brady hits him for a would-be touchdown.
* On a crossing pattern from left to right, Tanner Hudson had a Ryan Griffin pass bounce off his fingers.
* Same play, same quarterback only Jaydon Mickens is the target. He pulls the ball in for a catch.
* Griffin way overthrows Codey McElroy on the left side.
* Brady threads the needle between a pair of receivers for Godwin on a line drive throw to the right sideline but Godwin cannot hang on. The crowd moans in disappointment.
* Playoff Lenny runs off left tackle, gets to the sideline and is gone!
* Play-action: Brady fakes a handoff and instead throws left for Ronald Jones. Now this wasn't a "live" practice so Kevin Minter, who was in position to make a play, just left RoJo alone. If the practice was "live" with hitting, unlikely RoJo makes any kind of gain. However, RoJo certainly heard footsteps as he dropped the ball when Minter came near.
* C.J. Prosise — yes, Joe double-checked the roster — runs up the middle for about a six-yard gain.
* Prosise takes a pass from Gabbert in the left flat and puts together a nice gain.
* Playoff Lenny takes a Gabbert pass on the right side and burns the Bucs defense as he turns upfield along the sideline.
* RoJo must think he's playing the Stinking Panthers: RoJo busts up the middle for a monster run.
* Gabbert throws just a little too high for foot-rubbing Rob Gronkowski down the right seam.
* Nice play: Kyle Trask goes deep for Josh Pearson down the right side. Pearson got past the defense and Trask put the ball only where Pearson could get it as a defensive back fronted Pearson and could have made a play on a more accurate pass. Pearson may have been guilty of a pushoff but he skied leaning backwards, stretched out and pulling in Trask's pass.
* Mike Evans catches a Brady pass over the middle that was thrown behind him.
* Gabbert tries to throw a pass in the right flat to Jaelon Darden and Carlton Davis reaches out and swats the ball away.
* Gabbert throws a very low ball below Tyler Johnson's knees over the middle as Johnson crossed from right to left. It was too low for Johnson to pull in.
* Brady is flushed out of the pocket to his left and he unloads the ball to Playoff Lenny who couldn't keep the ball in his hands.
* Brady to Evans right sideline. Smooth.
* Ke'Shawn Vaughn takes advantage of a huge hole up the middle for a big gain. What made this play interesting was Grant Stuard was playing inside linebacker. He was gestering to something or somebody to the right and then he broke to the right either to cover someone or stack the hole where he expected the ballcarrier to go. Instead, just as Stuard bolted to the right, the ball was snapped and Vaughn bolted right at the spot Stuard vacated. Either that was a bad guess by Stuard or it was very good vision by Vaughn. You know, run where they ain't?
*`Goal line! Brady connects with Brown in the right side of the end zone.
*`Obstructed view: RoJo tries to run left and is stopped. The defense celebrates. Jason Pierre-Paul seemed to be one of the celebrants but Joe wasn't sure as his view was screened by Bucs players.
*`Gabbert connects with Howard over the middle for a score.
*`Gabbert goes again over the middle, this time it is Hudson for six.