Bucs Training Camp Notes Day 10
August 5th, 2021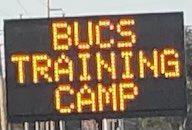 So today Bucs training camp practice was, well, almost comfortable.
Yes, in August. It had rained prior to practice and the cloud cover hung over the One Buc Palace complex. Add in a refreshing breeze, and it was just about comfortable. Moments after practice ended, the sun came out and the heat quickly rose. It was almost as if a higher authority gave the Bucs a break this morning.
* It was Military Day, an annual tradition where the Bucs honor men and women who served, past and present, in our Armed Forces. There was even skydivers falling from the sky to deliver a POW/MIA flag. Bucs center Ryan Jensen, who does a lot of outreach with military-type organizations, gave the Bucs' front office props for the annual day of appreciation (which was missed last year because of The Sickness).
* Because the weather was so unexpectedly pleasant, Bucs players seemed amped up and spirited. Having a day off yesterday helped. Joe noticed once while Tom Brady was barking signals, Bucs linebacker Devin White was jumping up and down as if he were on a trampoline.
(Notes are a bit limited as the Bucs practiced with obstructed views for media virtually the entire morning.)
* Joe couldn't tell who got the handoff but he was swallowed up at the line. Jason Pierre-Paul and Bucs sack king Shaq Barrett came to the sidelines and JPP was quite pleased with the result and sort of celebrated with Shaq.
* Bucs defense is rather talkative this morning. Practice has extra juice today. Practice seems unusually crisp.
* Brady hits Jaydon Mickens down the right sideline with a perfect pass, good for about 20 yards.
* No context backups: The second-team offense is on the field now and Joe hears an unknown player yell, "Don't f*ck up!"
* Scotty Miller over the middle? Miller hauls in a pass where the big trees grow for a short gain. Man, too many routes like that and Miller is going to get snapped in half.
* Tom Brady School of Quarterbacks? Kyle Trask looks and looks and looks and starts to scramble to his left and just dirts the ball. Did he learn that from Brady? That's a Brady play when he doesn't like the situation.
* It was a smart throw but not a completion. Foot-rubbing, car-littering Rob Gronkowski does what appears to be a down-and-out on the left side and Brady throws one high and outside. Gronk damn near made a crazy one-handed catch but the ball was just a bit too far away. Devin White was all over Gronk. So Brady threw it where only Gronk had a prayer.
* Tyler Johnson catches a pass on a crossing pattern from right to left from Blaine Gabbert. Johnson turns the corner and houses the ball.
* Brady hits Mike Evans over the middle with a pass right at Evans' belt. But the Bucs' best receiver in franchise history couldn't haul it in. That may be the first bad play Joe has seen from Evans this camp. He's been dominant.
* Miller dives for a pass from Ryan Griffin and can't come up with it.
* Brady launches a deep pass down the left sideline for Jaelon Darden but he was nowhere near the ball. Dee Delaney was defending. Not sure if Darden got hung up by Delaney or what the issue was.
* Lavonte David blitzes from the defensive right side and Brady just does get the ball away — damn, his release is so quick for a old goat. Had this been a game David likely would have planted Brady into the ground.
* Evans makes up for his earlier drop by catching a Brady pass in traffic to the left side.
* Ronald Jones has a nice run up the middle as he veered right to avoid tacklers.
* Brady lofts a short, soft pass to Playoff Lenny on the right side. White slams him with such force that Fournette finds himself driving in reverse and on his rear. Literally. Playoff Lenny just sat on his butt after the play looking up at White.
* Sack! Antoine Winfield comes on a blitz up the middle and this time Brady never had a chance to get rid of the ball. If this were a game, Winfield would have leveled Brady.
* Gabbert throws to the right side and linebacker Joe Jones skies like Michael Jordan and nearly got a finger on the pass. This Jones cat has some hops. Put him on field goal defense.
* Mickens catches a Gabbert pass down the left side and Mickens was ragdolled to the ground by Delaney.
* Johnson catches a pass just out of bounds from Gabbert and Johnson was splashed by Ross Cockrell.
* Gabbert tries to go to the right but has his pass batted down by Joe Tryon.
* Gabbert tries to connect with Tanner Hudson in the far right corner of the end zone but the pass was a bit too far.
* Brady with a play-action fake and tries to hit Gronk down the left sideline but was the pass was over his head.
* Evans catches a Brady pass on a slant in traffic.
* Evans stumbles coming off the line but recovers to still run his route just over the middle towards the left and catches Brady's pass.
* Jamel Dean breaks up a Brady pass down the left seam. Winfield was right there too.
* Brady throws low over the middle (Bill Parcells pass) and Chris Godwin goes equally low to dig the ball up.
* Brady to Evans but broken up by Winfield. The second-year safety is balling out this morning.
* Brady cannot get the ball to Gronk on the right sideline. Partially because Lavonte David was all over Gronk.
* Fumble! Playoff Lenny puts the ball on the ground.