Bruce Arians Talks "Lethargic" Bucs & A Dozen Jobs "Up For Grabs"
August 21st, 2021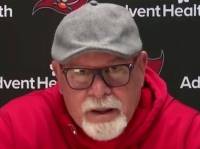 There's a game tonight and Bucco Bruce Arians jumped on radio to serve up some insight into his team.
After the final practice against the Titans, the head coach visited WDAE radio and lamented how his Bucs came out "lethargic" in their first practice with Tennessee on Wednesday.
Joe will be candid. How the hell does that happen???
Still, it's August and Joe's all in favor of getting the notorious Super Bowl hangover out of the way early. Arians said the Bucs found the appropriate amount of juice on Thursday and handled the Titans exceptionally well.
Yeah, Arians talked about the fights/non-fights between the two teams. He seems to find some laughs in the bench-clearing aspect of the brawls/non-brawls.
"The funny part is the guys who run to the back [of the group]. 'Hey, man, Hey, man, Don't hurt my guy,' Arians said with a smile in his voice.
As for the game against the Titans tonight, Arians said it's all about the backups tonight before the starters return next week in Houston against the Texans.
About a dozen jobs remain up for grabs.
"It's just now taking through the weekend with the starters. And I think we'll give them off, but all the young guys that are fighting for jobs are going to play in this ball game," Arians said. "And it's very big because there are about 10 or 12 jobs that are up for grabs. It'll be big in this game. And then we'll play more [starters] in the last [preseason game]."
Joe remains focused on kick/punt returner.