Bruce Arians Explains It's Absolutely Critical To Play Starters In Preseason Finale On Aug. 28
August 20th, 2021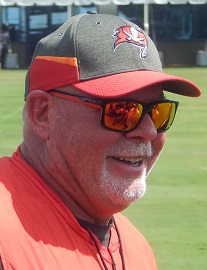 Bucco Bruce Arians put his foot down.
Do not even go there with Arians implying that preseason games are worthless and/or dangerous for elite veteran and players.
Arians was hit with this concept on WDAE Radio yesterday and was adamant that nothing could be further from the truth.
"We don't need game experience against Dallas. We gotta get some game experience before we play Dallas," Arians said. "It's too late [on Sept. 9], they're way too good to all of a sudden get [caught] up to game speed.

"Game speed is something different. You know what I mean? If you're going full speed, you ain't getting hurt. It would be a freak thing and a freak thing is going to happen. But them not playing and the all of a sudden playing game speed on Thursday Night Football in front of the world. That's way too fast to find out all of a sudden."
Earlier this week, Joe asked Ndamukong Suh about playing for Rams head coach Sean McVay and making it to the Super Bowl (Rams starters do not play at all in preseason), and also winning a Super Bowl last year with no preseason games, and now he's back playing in the preseason.
Every player has a different opinion, and it's obvious that there's no consensus among coaches.
But you can take it to the bank that Bucs starters will be balling on Aug. 28 in Houston.