Beat Versus Eat
August 5th, 2021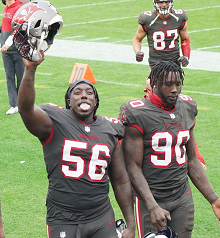 Who could forget the powerful quote from Devin White right before the Super Bowl, when Joe asked White for his unsung star of the Tampa Bay defense.
White paused and fired off a rant about defensive tackle Rakeem "Nacho" Nuñez-Roches.
It closed with White shockingly saying, "You know, I don't feel like we took a step back when we lost Vita. I feel like Nacho was still the same impact guy. "I felt like he held up in the run game. I feel like whatever we called on him to do, he did it. So I gotta give it to my guy Nacho, big No. 56."
But what about Vita Vea, the manbeast many consider among the very best nose tackles in the game?
Todd Bowles delivered a fantastic explanation today about the different between Nacho and Vea.
"… Vita, he not only eats up double-teams, he beats double-teams. I think he's been having a good camp thus far. He's got a good ways to go," Bowles said.

"His understanding of the defense has grown immensely since last year. I'm looking forward to having him for 17 weeks and being a presence but we've still got to develop guys just in case. I think 'Nacho' and Steve [McLendon] do a great job as well. Vita's big for us."
Joe loved the "eat" versus "beat" analogy when it came to double-teams. Nuñez-Roches certainly held his own starting most of last season, but Vita is a fully different level.
Vea may be one of the great X-factors of the Bucs this season. Nobody really knows how much the gargantuan, experienced 26-year-old can accomplish over a long season.
Also, the "just in case" line is key. Vea hasn't been durable through three seasons. It feels much more like bad luck than bad genes, but that's unclear.
Enjoy today's Ira Kaufman Podcast.