A Factor In Timing Of Secondary Clicking
August 7th, 2021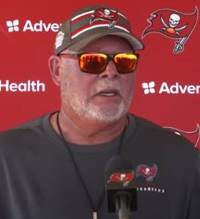 Joe is convinced that the further away we get from the Bucs' curb-stomping of the Chiefs in the Super Bowl, the more monumental that performance will become.
Only a handful of times in Super Bowl history has a team not scored double-digits. For a powerhouse offense like the Chiefs and Pat Mahomes to be throttled like that is really, really amazing work.
A major key was the Bucs' young secondary balling out like they never did before.
Earlier in the week, cornerback Jamel Dean said he couldn't quite put a finger on why the secondary clicked after the bye week. But it sure did.
The next day, Joe heard Bill Belicheat on SiriusXM NFL Radio say he could tell the development of some of his younger players — the normal jump from rookie year to second year or second year to third year — was stunted by no offseason last year.
Belicheat said the players did eventually turn the corner like they normally would, it just happened much later due to a lack of practice snaps, position meetings, etc., due to The Sickness.
So Joe asked Bucs Super Bowl-winning coach Bucco Bruce Arians yesterday if that was a factor in the secondary turning the corner later in the season. Arians is convinced it was.
"Oh, there's no doubt," Arians said. "When you miss all that time, technique-wise and just the study of film for two months of what you did, and then come back to training camp and you're learning all over. You don't get a chance to go back and watch all that tape like you would in a normal offseason.

"So it set back a lot young [players]. We've missed about three years of young player development in the last three years."
Now Joe is not sure how Arians calculated three years. But Joe does understand what Arians (and Belicheat) said. The more you play football, even practice football, the better you get. That's pretty much a no-brainer.
And when you look at the receivers, tight ends and quarterback the secondary faces in practice, that's a helluva bar to clear.
It almost makes Joe's mouth water thinking how dominant the Bucs were in the Super Bowl may be how they play this year.
Damn, what a difference a year can make when you have good coaches.