Was Mike Evans' Knee Injury His Fault?
July 13th, 2021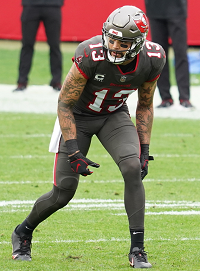 Intriguing information here on Mike Evans from none other than former Buccaneers head coach Dirk Koetter.
Bucs fans remember the pain in their gut when Mike Evans went down in Week 17 last season with a nasty looking knee injury after dropping a touchdown pass.
Evans was running a slant route on wet/muddy/soggy turf when he pulled up a bit to catch a ball slightly behind his stride. He slid and his left knee buckled and thankfully it was only a hyperextension that appeared much worse.
Speaking on Idaho sports radio 93.1 FM, Koetter said he called Evans right after that game to express his concern and good wishes. Per Koetter, Evans immediately picked up the phone and responded saying, 'Coach, I should have listened to you. I should have worn longer cleats today and I wouldn't have torn my knee up.'"
This intrigued Joe because, as regular Buccaneers Radio Network listeners know, color analyst and former Bucs tight end Dave Moore is a bit obsessed with the quality of Tampa Bay's home turf.
Moore often talks on-air about how important it is to have the correct cleats on and how the grass changes significantly from summer to winter at Raymond James Stadium, aka The Licht House.
Was Evans being serious with Koetter? Should he have been wearing different cleats?
Was that something Koetter and former receivers coach/offensive coordinator Todd Monken drilled into players?
Regardless, Joe suspects Evans will be very aware of what's on his feet during the next wet home game.