Tyler Johnson & "Incredible" YAC
July 14th, 2021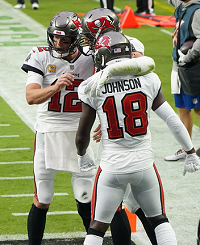 It's actually encouraging to know the Bucs didn't have one long and unexpected catch-and-run play last year that resulted in a big touchdown or massive gain in a huge regular-season game.
Why is that encouraging? Because it means the Bucs have plenty of room for more explosiveness in their offense.
The NFL tracks those kinds of plays via technology, aka NextGen Stats. Receiver speed, separation, defender location and more are calculated in real-time when a guy catches a pass. And that data determines "expected YAC" for every NFL play.
Under those yards-after-catch (YAC) guidelines, the Bucs had just one play that made the top-20 last year. Tyler Johnson's meaningless 35-yard catch from Blaine Gabbert in the Week 16 blowout in Detroit ranked 20th in the league last year among the pass plays with the most unexpected YAC, aka "incredible YAC."
The NFL computers determined Johnson should have had just three yards of YAC on the play but he ended up with 33.
Good for Johnson, but overall it's damn exciting to know the Bucs weren't buoyed by a bunch of freakish YAC plays that will be hard to duplicate in 2021.