Pre-Snap Motion And Play-Action
July 29th, 2021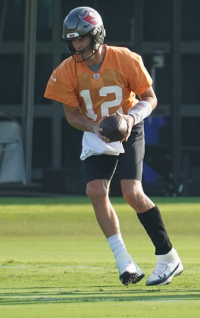 A lot has been made of the Bucs not using much play-action last season — which seemed to confuse Bucs offensive coordinator Byron Leftwich.
It is well-documented that the Bucs jacked up the use of play-action passes after the bye (which were successful when used before the bye). And we all know how the offense not just clicked but was dominant since.
Well, noted handicapper and stats guy Warren Sharp, in his Warren Sharp's 2021 Football Preview, notes that the Bucs used a lot more pre-snap motion after the bye week than prior it. Sharp is convinced the uptick was equally as important to the offense exploding as play-action passes.
How about pre-snap motion? The story is similar to play-action. Look at usage rates on early downs ahead of pass plays:

Prior to the bye: 39% (1% below average)
After the bye: 59% (fourth in the NFL)
Playoffs: 59% (fourth in the NFL)

Tampa Bay substantially increased the usage of all motion from the bye week onward and I absolutely hope that continues into 2021.

If the Bucs improve their run rate on first down and continue to use motion at high rates, they will be exceedingly difficult to stop this season.
After an underwear football practice this spring, Joe asked Bucs Super Bowl-winning coach Bucco Bruce Arians if what his quarterback said on a watch podcast was true, that he didn't know the playbook until late in the season.
Arians laughed and said yes, that was the truth coming from park-violating, home-invading, NFLPA-ignoring, down-forgetting, handshake-stiffing, jet-ski-losing, biscuit-baking, tequila-shooting, smartphone-phobic, waffle-grilling, trophy-throwing, roller-coaster-scared, numbers-rules-peeved, Bucs-Super-Bowl-winning quarterback Tom Brady.
When Joe asked for a guesstimate when Arians felt comfortable opening up the playbook, Arians said the second half of the Chiefs game right before the bye.
That certainly dovetails with Sharp's research on play-action and pre-snap motion.
Joe isn't sure why the offense jump-started. Whatever it was, Joe's simple rule of football applies:
Don't fix something that's not broken.