More Unique History On The Line For Tom Brady
July 4th, 2021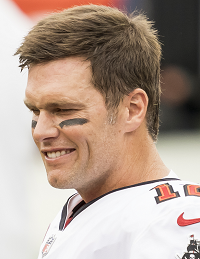 What may become the most-watched game in NFL regular-season history will be played Oct. 3, when the Belicheats host the Bucs.
One stat nugget that has nothing to do with the passing-yards record will be heard often during the massive hype for the game.
If Tom Brady can beat his former team in front of a wildly hostile crowd, Brady will become the fourth QB in NFL history to beat every NFL franchise.
The other three have darn good resumés: Peyton Manning, Drew Brees and Brett Favre.
When Favre returned with the Vikings to face the Packers in 2009 (a couple of small-market teams), FOX Sports issued a statement after the game saying their doubleheader ratings that Sunday were their best in 13 years and "other than Super Bowl Sundays, November 1, 2009, goes down as the biggest day in the history of FOX Sports."
So now imagine what happens in October when the most-popular and best QB in the world from the 12th-largest TV market squares up in a historic setting against his old team in the No. 9 TV market.
Joe admits to drooling at the thought of the Bucs entering that game 3-0 after beating the Rams in Los Angeles, then bludgeoning New England and picking up tens of thousands of new fans.
Regardless, Brady will have a shot to put his name in yet another rare category reserved for the all-time legends at his position.