Mike Tannenbaum Predicts Ex-Bucs QB Success Will Continue In New Orleans With Jameis Winston
July 9th, 2021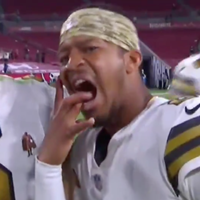 We all know what Tom Brady can do for the fortunes of a city's sports teams.
And we all know the success ex-Bucs' first-round draft pick quarterbacks have had after the Bucs use them up. And a former NFL suit expects that to continue.
Enter Mike Tannenbaum. The former Jets and Dolphins shot-caller now runs the 33rd Team and he gets paid to talk football for the four-letter.
So this morning, Tannenbaum took to Twitter and announced his 2021 breakout candidate in the NFL is former Bucs signal-caller, Mr. Entertainment, America's Quarterback, Pro Bowler Jameis Winston.
When we signed Vinny Testaverde in 1998, he was a turnover prone veteran QB. But in 1998, he had the best season of his career

Jameis Winston's path reminds me of Testaverde, which leads me to predict him as a breakout candidate this season with the Saints pic.twitter.com/OlbY6AEdwC

— Mike Tannenbaum (@RealTannenbaum) July 9, 2021
So let's go through the list, shall we?
Doug Williams: Former dirtbag owner refused to pay him commensurate to his resume and winning ways. He later leads Washington to a Super Bowl title while the Bucs crumble and begin a 15-year losing streak.

Steve Young: Fully uncoached by Bucs clueless coaches of the time. Traded for a second-round pick. Wins a Super Bowl in San Francisco and is inducted into the Pro Football Hall of Fame.

Vinny Testaverde: Turnover-plagued in six seasons with the Bucs. Makes Pro Bowl with the Crows and Jets. Leads Jets to the 1998 AFC title game.

Trent Dilfer: Headcase who didn't want to be in Tampa Bay and was not a team player. Brutal quarterback who, a year after not being re-signed by the Bucs, lands as a backup — to Tony Banks! — but on a team with a historic defense. Wins a Super Bowl after Brian Billick, in full panic mode with Banks'  horrible play, goes with Dilfer.
So if history holds, Jameis will be the next Vinny and lead the slimy Saints to the NFC title game.
Ugh.
But you know, it's all good. The Bucs got Brady and a Super Bowl.
"Oh, bartender, Joe would like another Crown Royal Reserve on the rocks, please."