Leonard Fournette Won't Take The Needle
July 23rd, 2021
The NFL yesterday dropped a bit of a bombshell on NFL players and teams, and it seems it ruffled the feathers of some high-profile stars.
There will be no delayed games this season to allow teams hit with The Sickness time for infected players to get off the COVID list or otherwise prepare their replacements accordingly.
So, if a game has to be canceled, the team that caused it must forfeit the game. Eat an "L."
The first thing Joe thought of was that this is only fair. If a team cannot play when scheduled because too many players are infected, it should forfeit. Why should an innocent team be punished because another team either didn't responsibly handle The Sickness or chose not to take the needle?
(Joe last year was especially outraged how college games could be canceled only a few hours before kickoff because a couple of offensive linemen tested positive. You mean coaches who are paid millions of dollars a year and have the luxury of 85-man rosters can't coach up a backup tight end to play guard, or coach up a backup linebacker to play tight end, or just promote a backup to starter at the same position? What a scam!)
Then Joe thought, "Yeah, right. The NFL is going to cut a very heavy check to a broadcast network for a missed game when there were no missed games last season. Sure."
Remember: Not one game was lost last year because of an outbreak of The Sickness. Several were delayed or had kickoff times moved, including the Bucs' first (work) trip to Las Vegas.
High-profile players popped off on social media admitting they are not getting vaccinated or they have zero issues with unvaccinated teammates. DeAndre Hopkins threatened to retire. Jalen Ramsey said if any teammate decides not to get vaccinated, he has his back.
And then there was Bucs running back Playoff Lenny. He confessed he can't take the needle.
Obviously, the NFL's edict is yet another attempt to squeeze players to take the needle.
(What do you think are the odds that uber health-conscience Bucs quarterback Tom Brady has been vaccinated?)
Joe knows Bucs Super Bowl-winning coach Bucco Bruce Arians has been quite vocal about the need for his players to get vaccinated. Clearly, the team isn't 100 percent vaccinated (yet).
Joe wonders if the discipline the team had last year to largely remain virus-free and make their glorious Super Bowl run will continue this fall?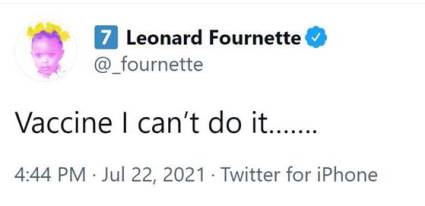 ---
TAMPA TWO rolls on through the offseason with legendary Derrick Brooks and Sage Ira Kaufman, the venerable JoeBucsFan.com columnist. The brilliance is presented by Converged Technology Professionals.
More fun from The Identity Tampa Bay & Joe.