It All Worked Out For Tom Brady, Bucs
July 7th, 2021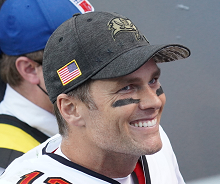 From the moment the Bucs announced Tom Brady was coming to Tampa Bay, Joe knew Brady was and is one of the most guarded NFL players when standing in front of cameras.
It didn't take very long (like two weeks, maybe) for Joe to conclude Brady's press conferences are not atop Joe's to-do list. Usually, Brady does not say anything relevant.
So it surprised Joe the way Brady was outspoken recently on something called "The Shop" seen on HBO. (Save for the Bucs in "Hard Knocks," Joe hasn't had HBO since the screen faded to black on Tony Soprano — an awesome ending.)
No one was more surprised by Brady's candor on "The Shop" than a guy who used to cover him and has written books about the Belicheats. That's Michael Holley, who pinch-hit for Peter King's "Football Morning in America" column this week.
I think it's amazing that we're still learning things about 43-year-old Tom Brady. Or maybe it's more accurate to say that we knew he had football opinions much stronger than the ones he routinely shared with the public. His profane candor on LeBron James's "The Shop" on HBO speaks to a number of things: People really are liable to say anything in a barber shop; even though Tampa was obviously a great fit, there was a team Brady wanted more—Niners?—and remains stung that the team didn't agree with him; that Patriots fortress that suppresses personalities is real. Where was all this when Brady was in his twenties and thirties?
Reading so many articles about that Brady appearance and watching it online, Joe never got the gist that there was a team that wanted Brady more than the Bucs. And if there was, why did they decide to pull out of the running? That makes no sense.
Joe found Brady claiming 90 percent of what he says in press conferences is jibberish to be far more interesting than a team that decided to stick with its unwanted quarterback. Who knows if it was Chucky or the Bears or the Dolphins or the Chargers.
So Brady claims he cons reporters 90 percent of the time in press conferences. Perhaps Joe pegged press priorities correctly all along.
As for the mystery team? Hey, it all worked out for Brady and the Bucs, didn't it? 🙂