Donovan Smith Uniquely Describes Team Chemistry
July 26th, 2021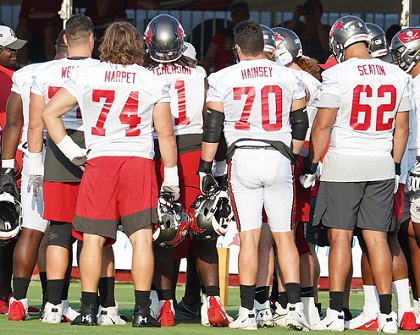 It's great to be a Buccaneer these days, but what's the bond on the roster really like?
Super Bowl left tackle Donovan Smith was asked to describe team chemistry after practice today, and came up with a wonderful answer.
It felt like the way Smith's head coach talks to media rubbed off on him.
"Just thinking of your closest, most happiest, joking A-holes out there just having fun," Smith said. "You know, it's a brotherhood. That's how it goes.

"A lot of guys like to have fun with each other. But we know at the end of the day, the guy standing next to you, right and left and front and behind you, they got your back 100 percent. It's just something; we enjoy each other's presence, you know all the team. And you can't beat that."
What could be wrong at One Buc Palace. The whole band is back, minus a couple of third trombone players and the dude who plays the triangle.
Smith wisely added, "Everything's better when you're winning."
Savor today's Ira Kaufman Podcast.