Deep And Diverse Trust From Tom Brady
July 25th, 2021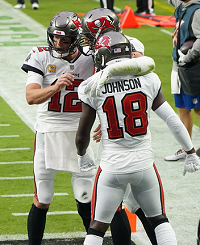 Joe always loves when true professionals break down film, versus the amateur-hour stuff often seen on social media and analytics sites.
Hall of Fame QB Kurt Warner has been diving into a lot of film in his QB Confidential series, and a recent episode was about Tom Brady. Warner is mesmerized by how Brady built trust quickly outside his top-3 receivers: Mike Evans, Chris Godwin and Antonio Brown.
Evans, per Warner's detailed breakdown, is one of the ultimate top-dog receivers in the NFL. But it's Brady's faith in the second-tier receivers that took the Bucs to another level, Warner said.
"Brady not afraid to trust his guys was one of the biggest differences about this team second half of the season compared to the first half," Warner added, noting that "over and over and over again" Brady relied on Cameron Brate, Scotty Miller and Tyler Johnson in huge games.
It's an important point by Warner. The Bucs' depth at wide receiver and tight end is historic, but that's worthless if Brady doesn't trust them all and starts forcing passes to one or two guys.
Poor Dan Quinn, the Cowboys' new defensive coordinator. He couldn't slow the Tampa Bay offense the past few years in Atlanta, and now he starts his new gig taking on what appears to be a truly unstoppable unit.