Bucs Training Camp Day 5 Practice Notes
July 30th, 2021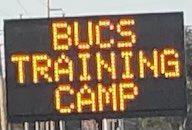 The heavy hitters are starting to show up.
No, no Devin White or Lavonte David, though White made a big-time splash play today. More on that later. But the heavy hitter media types are starting to roll in. Jarrett Bell of USA Today hung out for a few days.
Today, prickly Pete Prisco of CBS Sports was here and he had a personal shade tent as he is broadcasting a segment live from the practice fields of One Buc Palace for CBS Sports HQ.
Tomorrow, when pads come on for the first time, NFL Network will bring a crew of 13 to broadcast from One Buc Palace. (So you may want to monitor NFL Network tomorrow.)
Through today, it was strictly underwear football — flag football without the flags. Or as Bucs Super Bowl-winning coach Bucco Bruce Arians said (per Tom Brady), "Soccer practice is over after today."
On to highlights!
* Misdirection! Brady and the Bucs offensive line move left but the handoff to Giovani Bernard was to the right. Big gain for Bernard.
* This time a run really does go to the left. Ronald Jones with a nice run.
* Fumble! Blaine Gabbert cannot handle a snap from shotgun and the ball gets kicked quite a ways to the left. Nate Brooks scoops the loose ball up.
* Jaydon Mickens takes a pass from Gabbert and weaves through the defense for a huge gain.
* Brady tries to go over the middle and has the ball tipped at the line.
* Brady decides to go deep. Channeling the NFC championship last winter, he heaves one to Scotty Miller who is blazing down the left sideline and gets past Jamel Dean. Probably thinking he's toast, Dean tackles Miller as the ball falls just in front of Miller. Clearly interference on Dean. Miller gets up and spreads his arms as if to say, "WTF?"
* Chris Godwin takes a pitch from Brady and blasts past the defense to the left side for a big touchdown.
* No, no, no (or yes, yes, yes): Ryan Griffin tries to go over the middle and Devin White picks Griffin's pass and houses it.
* A rare over-the-middle pass route and target by Miller. Gabbert gets him the ball.
* Bernard catches a Gabbert pass over the middle.
* Antonio Brown does a double-move on the short right side and loses a defender as Brady hits him in stride coming across the middle.
* Kyle Trask feels the pressure and steps back after his initial dropback. He tries to throw over the middle to Travis Jonsen. The ball is behind Jonsen who couldn't haul it in despite getting his mitts on it.
* Joe Tryon is really quick moving laterally to his left. Playing right outside linebacker, Tryon goes after Trask but doesn't get there after he stunts inside. Tryon gets in the backfield once he sheds his initial block in a blink of an eye.
* Nice play by Trask. He feels the pressure and at first stutter-steps. Then he's flushed right and floats a pass to a wide@ss open Jonsen along the right sideline and he races down the field for a score. The crowd loves it.
* The bleachers are about 80 percent full this morning. Nice crowd. Yes, it is hot but not nearly as bad as Tuesday. That was brutal.
* Brady to Gronk down the right seam. Dean had no prayer. This energizes the crowd.
]
* Gabbert throws a perfect pass down the right seam to Tanner Hudson who gets past the defense.
* Out of context Tom Moore: The veteran coach stands behind Bucs Super Bowl-winning coach Bucco Bruce Arians and is constantly checking his notes both right before the snap and right after the whistle.
* Brady rifles a short pass to the left sideline for Playoff Lenny. He initially bobbles it but is able to haul it in.
* Mike Evans finds open space over the middle and Brady finds him. Evans has had a beastly first week of underwear football/soccer practice.
* Jaelon Darden makes an appearance. Brady hits him along the left sideline. Can Darden continue his solid play when the pads come on? Kenny Bell and Tommy Streeter would like to know.
* Brown shakes a defender and after pump-faking, Brady nails Brown over the middle.
* Griffin finds Jonsen in traffic.
* Griffin goes deep right and connects with Tyler Johnson.
* Godwin is in traffic over the middle and Brady hits Godwin right in the gut. After the play, you could hear Brady say, "Good job, CG!"