Bruce Arians Comes Out Swinging
July 25th, 2021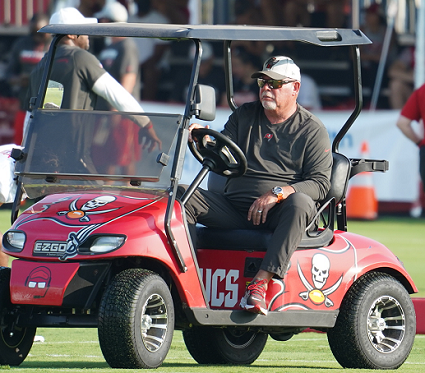 The man coming off the greatest coaching job in Buccaneers history came out swinging at his opening training camp news conference.
Rather than play defense, before questioning began Arians opened by warning media not to ask about player health — or why someone isn't on the field or when they'll return. Don't go there, Arians cautioned, because he's not going there.
Postseason workhorse tight end Cameron Brate, who was seen at practice in street clothes, is not participating and is on the physically unable to perform list. Fellow TE O.J. Howard was not practicing with teammates, though was working out and catching balls.
One reporter ignored Arians and asked about Howard's general timetable. Nope. Arians wasn't having it.
Yeah, don't even ask about Tom Brady's left shin-calf wrap. "Ask Tom," Arians said when queried about it a few minutes later.
Arians did share that newcomer veteran safety Raven Greene was excused from practice for personal reasons.
NFL coaches love secrecy. Media was not permitted to take any pictures of video after the first 30 minutes of practice today, though there were no such restrictions on the couple of thousand fans in attendance.