Another "Home Game"
July 28th, 2021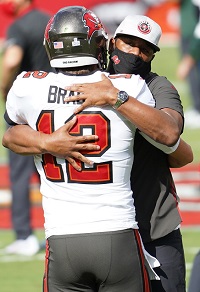 It's never to early to talk about what likely will be the most watched football game in NFL regular season history.
Of course, that's the Buccaneers heading to New England on Oct. 3, for a Sunday Night Football game that will features the greatest quarterback in world history facing his old team and legendary former coach. And the Bucs are Super Bowl champs — and the Patriots should have a smothering defense.
Patriots legend Vince Wilfork has strong opinions about that game, so he told ESPN TV.
Wilfork, one of the greatest nose tackles in NFL history, says it won't be a Tampa Bay road game.
"I think it's going to be a home game feeling for [Brady]. I really do," Wilfork said. "I think the fans are going to welcome him with open arms. I think he's going to be embraced because of so much he's done for that organization. Tom is Tom, you know, a New England Patriots or a Tampa Bay Buccaneer. He's Tom. And people love Tom and people hate Tom. But he's going to a place [where he's beloved]."
Wilfork was with Brady when he won back-to-back Super Bowls, and he's convinced the Bucs will be right back knocking on the door of another Super Bowl win this season if they stay healthy.
It's no one-man show in Tampa, per Wilfork, who said what the Bucs accomplished in Brady's first year was evidence of how good the entire team was when Brady arrived.
Joe can't wait for that Bucs-Patriots game. Fun stuff. But Joe can't agree that it will feel like a home game for the Bucs.
If New England jumps out to a 2-1 record, then Joe would be confident that those annoying Pats fans will be all fired up thinking they're going back to the Super Bowl. If the Patriots enter that game with a losing record, then yeah, the fans will be treating Brady like a treasured guest.