Ali Marpet Talks "Surgeries"
July 6th, 2021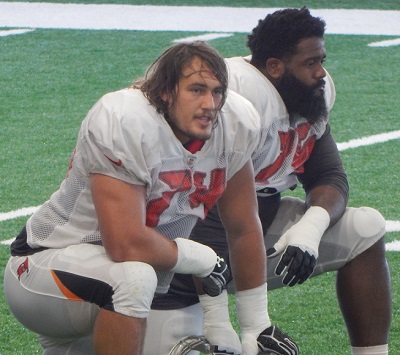 Sage JoeBucsFan.com columnist Ira Kaufman often talks about how fortunate the Bucs have been with injuries on their offensive line for several years dating back to the Dirk Koetter regime.
Joe was reminded of this listening to left guard Ali Marpet talking recently in an interview with Division III Hobart University athletics, where Marpet is a living legend.
He was asked about success avoiding injuries through his Bucs career, missing just nine games through six seasons. And Marpet disagreed with the entire premise.
Playing hurt is the norm every season, Marpet said. And he added that it's not like he has missed grinding through offseason "surgeries" and months of rehab during the season of getting your body right, February through July.
Joe remembers the surprise revelation in November of last year, when Bucco Bruce Arians said Marpet had hip surgery following the 2019 season.
Marpet using the plural, "surgeries," caught Joe by surprise. Joe doesn't recall Marpet having more than one surgery.
Regardless, the chatter was a reminder that the Bucs have been more fortunate than most when it comes to their opening day starting five on their offensive lines.
Hopefully, that run will continue.