Tom Brady & The Shotgun Fallout
June 15th, 2021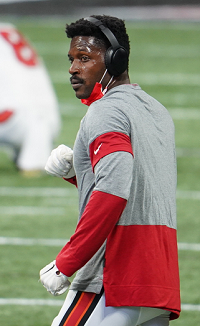 Joe suspects a training camp change coming to One Buc Palace will have a long-lasting effect.
A recent report from Hall of Fame voter and Bucs minicamp attendee Sal Paolantonio really intrigued Joe on various levels. Bucco Bruce Arians told Paolantonio on ESPN TV that the Bucs would run significantly more shotgun this summer in order to cut the amount of times Tom Brady drops back and stresses his surgically-repaired knee.
Joe been salivating over this news for days.
First, Joe thinks practicing more in the shotgun will lead to the Bucs finding a lot more comfort in it and, subsequently, using more empty backfields in games. Can any team in the NFL that can hang with the Bucs when they go four- and five-wide?
Second, Joe believes the Bucs didn't seize many chances last season to run the ball out of the shotgun. And Joe is confident Ronald Jones can do a lot of damage that way.
More shotgun practice will lead to more shotgun usuage — and Joe likes how that potentially could take the offense up a notch.